Housing First – before the House
Cos'è l'Housing First?
L'Housing First è probabilmente uno degli approcci più innovativi per intervenire nel contrasto alla grave marginalità adulta
Developed by Dr.. Sam Tsemberis in New York in the nineties, questo modello si è rivelato di successo nei tentativi di risolvere la condizione di homeless by persone con disagio multi-fattoriale negli USA, Canada and many European countries including Italy
In practice, people with years of living on the streets or at risk of losing housing, receive from the local social services the opportunity to enter into a self contained apartment "without going through the dormitory" enjoying the accompaniment of a team of social workers (supported housing) directly at home
Research shows that in 8 almost their 10 the person comes out of isolation, stabilizes your physical and mental wellbeing, He takes care of your health, It engages in training activities and occupations (small jobs), leisure and in many cases takes the ties with family and friends (Pleace e Bretherton 2013; Courteous 2016; Molinari and Zenarolla 2018)
Come si fa Housing First?
Apply the Housing First in Italy as part of the services for the homelessenss means inspired to concretely 8 principi guida europei elaborati da un team di esperti- including Marco Iazzolino for Italy – in collaboration with Dr.. Tsemberis, founder of the first Housing First program (Pathways to Housing): Living is a human right; Participants have the right to choice and control; Distinction between living and therapeutic treatment; Orientation to Recovery; Harm reduction; Active involvement and not coercive; Designing person-centered; Flexible support for as long as necessary
Insiders know that it is useful principles in all policy approaches with vulnerable people and multibarriered. However, the Housing First project team requires significant guidance to personalizzazione dell'intervento and people-centered
In this approach, the priorities are to give access to the house, put the person in the best conditions in order to act / react / choose guided from a supported environment, intimate and safe, promote the reduction of the damage and offer accompaniment for as long as necessary
Dove viene applicato

?

Oltra to United States, Canada, Australia, also in Europe many countries have applied the model (consult the map's Housing First Europe Hub). Each country has invested public resources, or private donations to fund the projects and each country has devoted its attention to specific target groups (Teen, women victims of violence, families, chronic homeless with mental health problems, etc ...)

From 2014 also in Italy It was launched Model Housing First trial. In addition 50 organizations working with homeless people in the public sector, privato e privato sociale hanno deciso di applicare il modello come innovazione dei propri servizi e hanno aderito al programma del Network Housing First Italia, founded and coordinated by fio.PSD

The Network program continues today and in 2019 They are numerous and ever increasing organizations through this approach welcome home people with homelessness stories and offer them support and a constant accompaniment (see the map of NHFI)
Monitoraggio e valutazione
Also in 2014 si è costituito spontaneamente un Scientific Committee coordinato da fio.PSD per studiare le caratteristiche e le dinamiche dell'Housing First in Italia
The group was inspired and is in constant contact with international colleagues (Tim Aubry, Sam Tsemberis, Debora Padgett, just to name a few) and European colleagues (José Ornelas, Nicholas Pleace, Volker Busch-Geertsema, Isabel Baptista) and it allowed to invest in training, supervision and evaluation of the Housing First projects developed within the Italian Network
Researchers have also developed a methodology for analyzing extremely valid and useful to collect results, impacts and the "life stories" of the more than 400 people accommodated in the Housing First homes.
Per approfondire sugli strumenti di valutazione dell'Housing First Italia consulta la pagina dedicata
Per saperne di più e aderire al Network Housing First Italia scrivere a fiopsd@fiopsd.org
Guide Housing First Europe
Members Housing First Italy
Housing First su Wikipedia
Publications Housing First a cura fio.PSD
Poverty and social innovation Paths necklace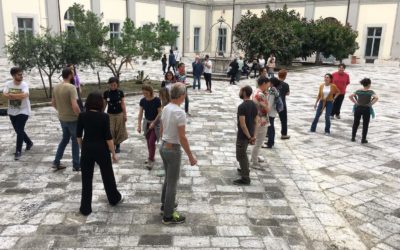 Reports from the school of first level Housing First year training the first level of the Housing First Italian Network has landed south, a How, in Campania, a few steps from Naples, from 3 at 6 June Attended 31 people from 25 bodies present ...
read more